Ashtead Technology acquired Hiretech in December 2022, an Aberdeenshire-based equipment rental and services company, serving the international offshore renewables, decommissioning, and conventional energy markets.
The acquisition has provided strong synergies through vertical integration of the supply chain, and meaningfully expands our business by adding complementary capabilities to strengthen our mechanical solutions service line and deliver an enhanced offering to our customers.
Keith Mackie, formerly Managing Director of Hiretech is now General Manager for this part of the business, under our mechanical solutions service line.
Here, he shares more about the integration and what life is like as part of the Ashtead Technology Group.
It's been nine months since the acquisition. Share your thoughts so far.
Being part of Ashtead Technology is the perfect home for Hiretech enabling us to expand our existing capabilities and international footprint. Our customers now have access to a wider portfolio of products and services, resulting in a far more comprehensive solutions capability. Now part of Ashtead Technology's mechanical solutions service line, we are one united and highly-experienced team with a multi-purpose fleet of back-deck and subsea equipment rental assets and services to support our customers' offshore energy campaigns.
What are the main synergies and benefits to being part of the Group?
Ashtead Technology was Hiretech's largest customer so a strong relationship was already established – this made the integration extremely smooth running and we now have very strong foundations to build on as we grow our market share. Ashtead Technology's international footprint and scale brings immense value to our part of the business and we have already started to benefit from this especially in key growth markets including the Middle East and Asia Pacific regions.
Looking ahead, what are the main opportunities?
It is hugely exciting being part of an organisation that has the scale, resources, capability and investment to help better serve our customers. Whilst this is a fantastic opportunity for our business, the core of what we do remains which is to provide rental equipment package solutions and support services for decommissioning, subsea, hydraulics, well services, pipeline and renewables applications. For our people, being part of a larger organisation provides them with enhanced career growth and development opportunities as well as access to valuable experience across various other disciplines and functions. The future looks bright and I'm looking forward to playing a part in the next stage of Ashtead Technology's growth journey.
View our range of offshore support equipment here.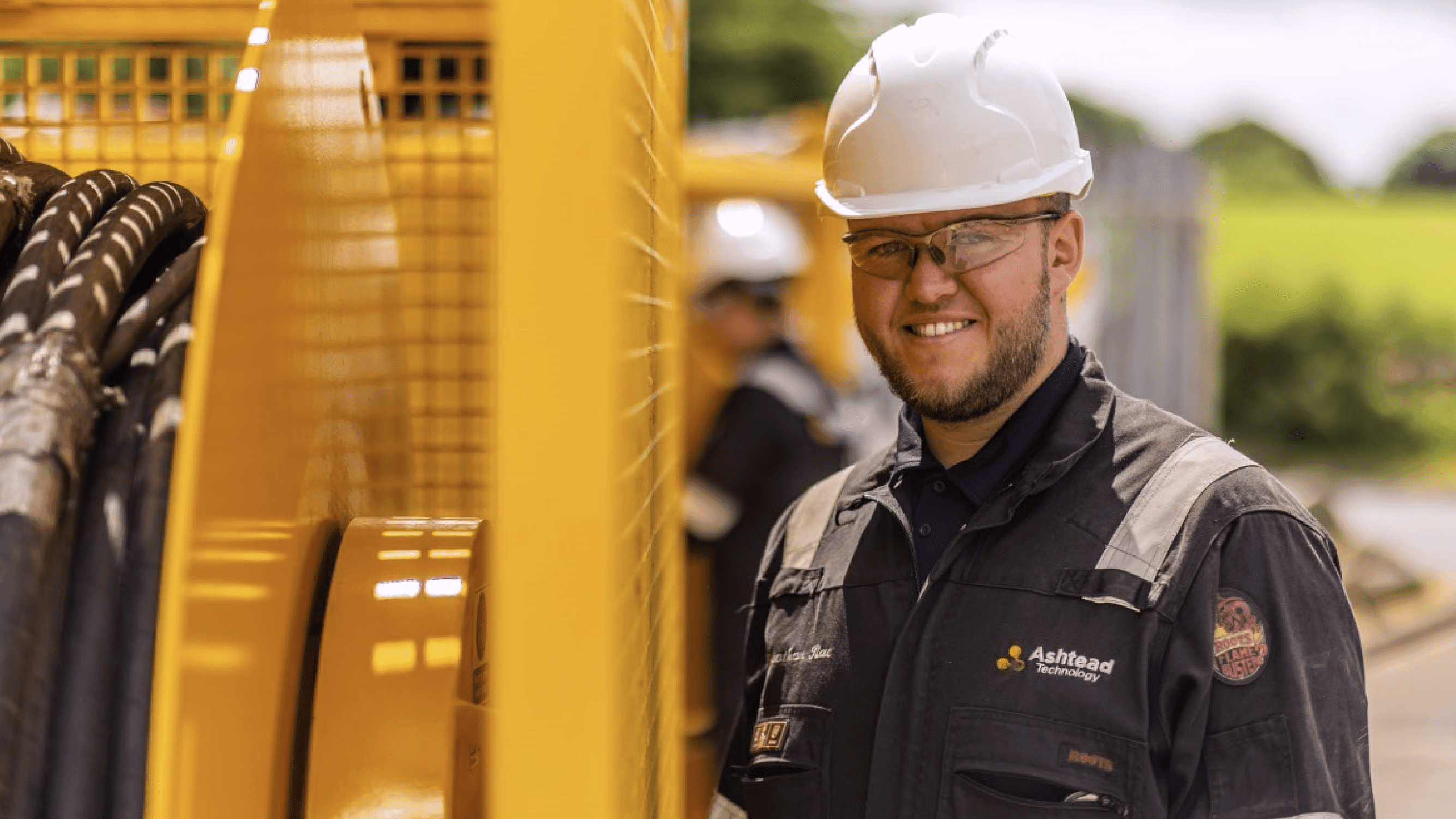 Discuss your role within Ashtead Technology
As a Project Manager within Ashtead Technology's mechanical solutions service line, I am responsible for the timely, safe and reliable delivery of our subsea technology and services to support our customers' projects in the Asia Pacific region. Specifically, I lead the development of each project plan to include objectives, scope, budget, timescales and resource management and allocation. Identifying and mitigating risks is also part of my role which is mainly accomplished by risk assessments and contingency planning to help minimise any disruptions, ensure safety and compliance whilst adhering to the highest quality standards. Good communication is an essential part of my role as I am the main project point of contact for all stakeholders from project initiation to delivery. Internally, I assign tasks, monitor progress, and provide feedback to create a better and safe work environment for everyone involved in the project.
What does your typical day look like?
I start each day with daily project meetings and address anything urgent that needs attending to. I also prioritise tasks, deadlines and keep on top of all offshore and onshore activities associated with each project. Throughout the day, I will have regular contact with our BD, operational and management teams to provide everyone with ongoing updates and determine what other work is coming up in the pipeline. It is all about communication, transparency, organisation and planning.
What has been your background and career history to date?
I have had many years' experience working in various management and operational disciplines, supporting the successful execution of projects for major energy operators and service companies in the Asia Pacific region. After graduating from Nanyang Technological University in Singapore, my first position was as a project engineer for a fabrication company building 30 to 50 tonne A-frames for launching ROVs offshore. After a few years I made the move to a company specialising in decommissioning technologies and ROV tooling where I served as the single point of contact to support projects in Asia, India and Australia. Fast forward a few years and I started to manage larger decommissioning work scopes from the bidding phase right through to project completion and close-out. This experience has been extremely beneficial in reaching my career goals to date.
Who or what inspires you the most?
Each supervisor or manager I have worked with throughout my career had specific attributes or leadership styles that I have learned from or admired. I have been very privileged to have worked with so many great people over the years which has helped shape me into the person that I am today.
What do you enjoy most about working in Ashtead Technology and in the Asia Pacific region?
Ashtead Technology's mechanical solutions service line continues to grow in the region and I'm relishing the opportunity to lead the ongoing delivery and successful completion of our diverse range of decommissioning projects. We have a great regional leader who leads by example and encourages a supportive and collaborative working culture, ensuring we adhere to our core values at all times and strive for excellence together. I also enjoy the flexibility of my role and trust placed in me to succeed. Hard work is recognised and rewarded so we feel valued and empowered as individuals and as a team to want to do our best and make a difference for our customers.
Underpinned by our deep heritage, knowledge and extensive experience in the subsea and robotics sector, Ashtead Technology has built an established track record in the delivery of custom engineered solutions for the offshore energy sector. Our ability to understand what and where the challenges are and how these can be overcome has resulted in the pioneering development of several new technology innovations particularly in the asset integrity space.
Spearheading our technology development programme is Ross MacLeod, Ashtead Technology's Integrated Projects Director. Ross joined Ashtead Technology in 2011 as Business Development Director prior to taking on the role of Technical Director in 2017, where he played a significant part in growing our technical services offering and in-house engineering capability across our survey & robotics and asset integrity service lines. Ross became Ashtead Technology's Integrated Projects Director in 2022 to support the successful delivery of increasingly larger engineering work scopes as our customers' trusted subsea technology partner.
He added: "Core to developing the optimum solution is listening to the customer and understanding their unique challenge. As a subsea equipment rental business with 38 years' experience across the sector, we have first-hand experience of what will and won't work – we have seen it all. Ultimately, we want to help our customers' and we will always consider what will add most value, be more efficient, reduce operational risk and vessel time."
Our evolution and early developments
It was some notable successes in the engineering space that led to an organic shift in our offering. No longer just a 'box rental' business, Ashtead Technology has evolved to become an integrated subsea technology and solutions partner – with our passion for solving problems, combined with our market-leading technology portfolio, we deliver innovation, operational excellence and specialist engineering services to support our customers' projects.
The launch of Ashtead Technology's Autonomous Monitoring System (AMS) in 2016 was the start of the development of a range of game-changing proprietary products for subsea inspection and monitoring applications. Based on feedback from customers, current systems had too many design limitations and were not multi-functional, so Ashtead Technology created a next generation configurable autonomous monitoring solution for measuring headings and pitch & roll using the latest technology, solid state fibre optic and ring laser gyros. Evolving from the AMS was the Deflection Monitoring System, a suite of structural monitoring systems to support offshore construction operations, combining powerful software with modular technology. The system monitors critical structural information, allowing real-time adjustments to be made during installation, ensuring the structure is set in place quickly and within installation tolerances.
Supporting the offshore renewables sector
Our growing track record in the development of offshore technology solutions has resulted in further pioneering work in the offshore wind sector and specifically for the installation and construction phase. Our reputation for being inventive, knowledgeable and responsive has created opportunities for us to develop custom engineered solutions for wind energy operators and service companies to support borehole inspection, borehole internal casing cleaning, grouted pile installation and grout level monitoring. Core to our recent success has been the acquisition of complementary companies which have further bolstered our mechanical solutions capabilities and in-house engineering expertise to help develop truly unique solutions for customers.
Ross said: "The acquisition of Undercutting Cutting Solutions in 2019 came at the perfect time for our business as we were able to leverage their strong capabilities to support various work scopes for the Neart na Gaoithe offshore wind farm which we were awarded in 2021. Specifically, their offshore cleaning and dredging technology know-how was used to develop custom solutions for preparing the socket bases before grouting could commence as part of the foundations installation phase."
Development of proprietary products
By being able to design and build our own custom equipment, Ashtead Technology is not constrained by the availability of existing equipment in the market and can focus on developing the right solution for our customers' project needs. A key strength is our ability to design integrated electrical systems, instrumentation, telemetry and hydraulic control systems which offer sophisticated functions and safety features whilst remaining robust and reliable for operation in the marine environment.
Recent developments have included our ROV/ Diver deployed Cathodic Protection (CP) Measurement System for robust subsea CP monitoring; our Chain Measurement System, a ROV-deployed optical caliper imaging device; and our new standard Drop Camera System, part of a range of systems designed for high-resolution seabed visual inspection, in water depths up to 4000m.
Ross added: "We are at an exciting stage in the evolution of our business with some very interesting projects in the pipeline. Investment in the business through growing our team, expanding our product and service offering and acquiring highly complementary businesses has truly strengthened our company and positioned Ashtead Technology as a go-to-partner for service and engineering excellence with a robust suite of products and services, that we can be proud of."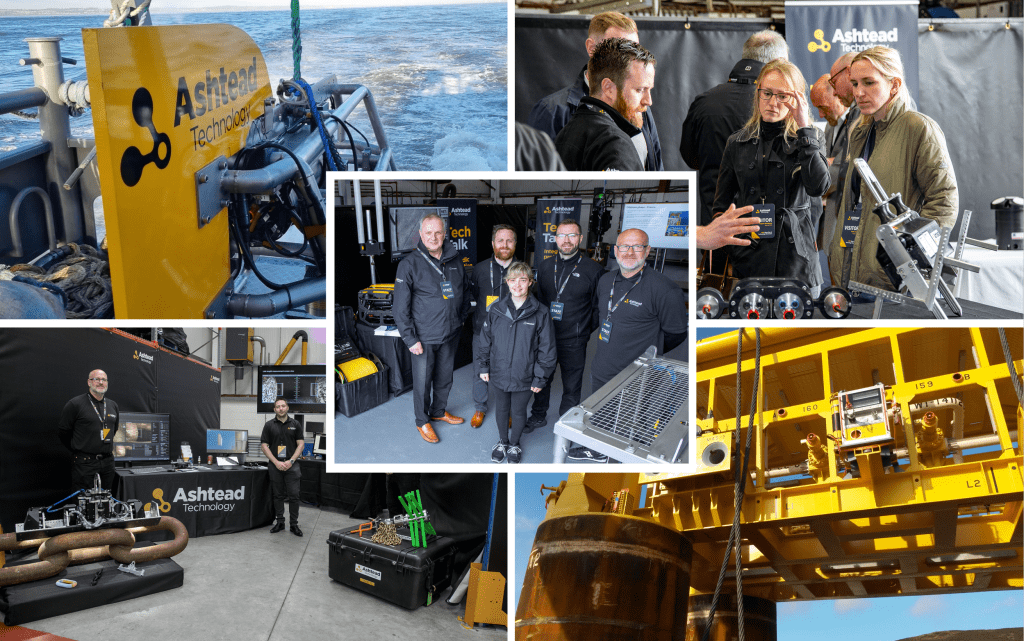 International subsea rental equipment and solutions specialist Ashtead Technology has appointed Rich Fry as Group Business Development Manager – Renewables.
The appointment underlines the company's strategic ambition to accelerate the growth of its capabilities, services and track record in the offshore renewable energy sector to strengthen its market position and support customers globally in the delivery of the energy transition.
Rich brings strong credentials to the company with over a decade of experience working with equipment manufacturers, installation and O&M contractors in various engineering, project management and business development roles in the offshore renewables market.
His appointment comes at a pivotal time for Ashtead Technology as the company continues to build momentum in the offshore renewable energy sector supporting the construction and installation stages of offshore wind farm developments.
Bob Gillespie, Ashtead Technology's Commercial Director, said: "Offshore renewable energy is a key growth sector for our business with offshore wind projects now accounting for a significant proportion of our Group revenue.
"Working alongside our highly skilled team, Rich will play a key role in leveraging our existing strengths and capabilities to grow our presence in the global offshore renewable energy market utilising his wealth of domain knowledge and industry expertise. I'm looking forward to working with Rich and our wider team of experts to support the continued delivery of best-in-class and cost-effective offshore wind energy lifecycle solutions for our customers."
Commenting on his appointment, Rich, said: "I have witnessed Ashtead Technology's impressive growth over recent years, and it is a privilege to be able to play a part in the next stage of the company's exciting growth journey.
"Ashtead Technology has developed a strong position in offshore renewables and I look forward to building on this track record through raising awareness of the broader range of technologies, expertise and services we have to offer from across the Group."
In 2019, Ashtead Technology acquired Underwater Cutting Solutions (UCS), strengthening our wider subsea equipment and IMR services offering to customers globally.
Three years on, Fraser Collis, General Manager of Ashtead Technology's Mechanical Solutions business and one of the founders of UCS, shares his thoughts on the journey so far and how being part of Ashtead Technology is providing greater value to our customers.
"Founded in 2004, UCS was a market leader in the North Sea, providing mechanical cutting, dredging and coating removal equipment and services. Over the years, we developed and successfully deployed a vast suite of purpose designed tools and techniques for the successful cutting of subsea and topside pipelines and structures.
"UCS was built around teamwork and a passion for technology. Our team enjoyed all aspects of engineering and problem solving in order to meet and exceed our customers' expectations. This spirit is something I am immensely proud of and continue to nurture now that we're part of the Ashtead Technology team.
International expansion and investment
"Now part of Ashtead Technology's Mechanical Solutions service line, we are looking to further scale the business internationally and provide our specialist technologies and expertise to customers operating in key offshore energy hubs. We have already made quite substantial investment in developing and mobilising new equipment spreads to support projects in the Asia Pacific and Middle East regions and our teams in the Americas continue to expand our global fleet of equipment using their in-house design and assembly expertise.
"To meet the continued demand for our services and in-house engineering capability, we invested in growing the Mechanical Solutions team with several key operational appointments made already this year to bolster our expertise across our international locations.
"In our relentless pursuit of excellence, we also continue to invest in our equipment to ensure we remain at the forefront of what we do. This commitment to innovation and continuous improvement has led to recent enhancements to our shear cutting, diamond wire cutting and water abrasive cutting solutions portfolio in order to solve our customers' operational challenges.
"In February 2021, we invested in a new technology facility based in Aberdeenshire, UK, which is home to our Mechanical Solutions and Europe region Asset Integrity teams. By consolidating our team and technologies in a new purpose designed facility we've been able to fully integrate our service offering to provide a more efficient and streamlined service for our customers. The new facility has also doubled the capacity of our previous site to accommodate our growing fleet of equipment and enabled the development of more bespoke technologies to support our customers' unique project requirements.
Supporting the energy transition
"As part of our long-term sustainability strategy, these latest investments are enabling us to play a more proactive role in supporting customers in the offshore renewables and decommissioning markets. Through utilising our skilled people and their wealth of subsea operations domain knowledge together with our equipment and facilities, we can deliver best-in-class, cost-effective technology solutions for the construction and installation phases of offshore wind farm developments.
"Decommissioning is also playing a crucial part in the transition to becoming a net‐zero economy and based on the strength of our subsea technology know-how and track record in this field, Ashtead Technology is continuing to play an active role in the delivery of innovative, safer and low-cost technology solutions for the cutting and removal of offshore energy infrastructure."

At Ashtead Technology, our experts are highly experienced in the delivery of asset integrity solutions for the installation, construction and life of fieldof offshore energy infrastructure.
Bo Jiang is a Data Analyst for our Asset Integrity service line, based at our facility in Halifax, Canada. Working closely with our international asset integrity and remoteoperationsproject teams, Bo's role involves analysing critical information obtained offshore and preparing data reports for our customers.​
In this article, Bo shares his experience of joining Ashtead Technology and the key role he plays to help customers make faster and more informed decisions about the integrity and future performance of their safety-critical infrastructure.
Background
Before joining Ashtead Technology, I worked as a Systems Analyst in Singapore for several years. I had a keen interest in data analysis which led me to study Geospatial Data Analytics at Nova Scotia Community College in Canada. I was aware of Ashtead Technology as one of the leading names in subsea asset inspection and was excited to be offered the role of Data Analyst as it suited my background, knowledge and interest.
My first project within Ashtead Technology was to analyse 2D and 3D sonar data collected from subsurface jacket pile sockets to support the installation of a large offshore wind farm development in the UK offshore sector. The analysis showed the results of the socket drilling and dredging work carried out to help the customer determine the integrity of the sockets prior to pile installation. Through using my software development experience, I was able to help reduce analysis time by 50%.
How my role has evolved
On top of my data analysis tasks, I have recently completed training so I can perform photogrammetry data processing to support Ashtead Technology's offshore 3D modelling (3DM) service offering. Photogrammetry is used to generate 3D models of critical infrastructure from 2D photos taken by offshore engineers and the models are then interrogated to obtain critical dimensions, such as linear and angular measurement, flatness and circularity deviation, interference between components, and area and volumetric calculations.
At the forefront of subsea inspection technology
Recognising the need for a cost-effective alternative to high accuracy and high-resolution 3D modelling photogrammetry, Ashtead Technology entered into a global partnership with Whitecap Scientific Corporation, the developers of ROV3D Recon, last year. ROV3D is a real-time 3D reconstruction technology that can be used on nearly every type of ROV and without external specialists. ROV3D provides digitisation to routine offshore inspection tasks and can give valuable insights to support our customers' real-time decision making. Our team put a lot of effort into testing the camera calibrations and modelling capabilities of the ROV3D system.
I was also recently involved in the data processing to support the launch of our new optical Chain Measurement System (CMS). The system was designed by our Halifax-based engineers and uses artificial intelligence and machine vision to measure the critical dimensions of underwater chain links to manage long-term integrity. Our optical CMS solution uses high-resolution video combined with machine vision algorithms to provide real-time results which is helping to reduce chain measurement time by more than 50%.
Collaboration and teamwork
One of the things I value most about working at Ashtead Technology is being part of a strong and collaborative team. Our Halifax team is small, but large on talent and motivation. Everybody in the team has their own unique skill set that they excel at, and we all work together and help each other like a family. I really enjoy working in a team where I am continually enhancing my knowledge and expertise, and I'm looking forward to the next chapter of my career with Ashtead Technology.
At Ashtead Technology our success depends on our people and we continue to invest in growing our talented teams to support our customers' projects worldwide. Part of our recruitment strategy includes visiting local colleges and universities to meet face to face with the next generation of talent and provide them with valuable insight into the career opportunities we have available. This process also gives potential new recruits the chance to ask questions and make direct contact with our hiring, technical and operational teams whilst getting a feel for the culture of our business.
Andy McKie is a Workshop Technician for our Survey & Robotics service line, based at our facility in Westhill, Aberdeenshire, UK. Andy joined Ashtead Technology in June 2018 as a Trainee Technician after attending one of our recruitment fairs at a local college, which then led to his appointment.
In this article, Andy shares his experience of joining Ashtead Technology since leaving the North East of Scotland College (NESCOL) in Aberdeen with an HNC in Electrical Engineering, and discusses how his role has evolved based on the experience he has gained over the past few years.
My experience as a Trainee
"I was first attracted to the role at Ashtead Technology as the company seemed like a dynamic and progressive business with plenty of opportunities to learn from a highly experienced team.
"I spent my first two years at Ashtead Technology as a Trainee Technician, working in three different teams within the workshop in order to gain a thorough understanding of the full range of equipment in the fleet and the testing, preparing and sometimes repairing that needs to be done to ensure all assets are in a project-ready condition. Based on the variety of projects we deliver for customers and the breadth of equipment in our rental pool, no two days are ever the same which makes my job very fulfilling and interesting.
How my role has evolved
"Since being promoted from Trainee Technician to Workshop Technician, I have continued to broaden my knowledge of the extensive range of equipment in Ashtead Technology's global fleet. I have spent time on a boat calibrating one of our units, which was a great experience as it gave practical insight into how the equipment will be deployed in an offshore environment. I have also been able to travel to our offices in Houston and Broussard to assist the teams with their workshop operations.
Future career opportunities
"In the absence of a Senior Technician in my team, I often have the opportunity to step-up and lead the team. This involves providing dedicated support to Trainee Technicians along with managing a busy workload to ensure all daily tasks and project priorities are met. I plan to continue developing my career with Ashtead Technology and the next stage is to progress to the role of Senior Workshop Technician.
Working at Ashtead Technology and advice to others
"I've thoroughly enjoyed my time working for Ashtead Technology so far. The team work incredibly well together to ensure we provide the best equipment and service possible for our customers. Due to our fast growth, we are continually seeing more vacancies arising across our global operations which provides the opportunity for further career progression and international travel.
"I would highly recommend Ashtead Technology to anyone looking to gain experience working for an exciting and fast-growing technology and service-driven company in the global offshore energy sector."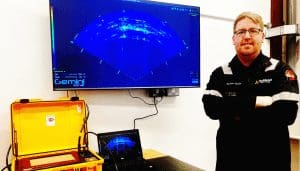 Michael Gibson is a Project Manager for our Asset Integrity service line, based at our remote operations centre in Aberdeenshire, UK. Michael joined Ashtead Technology in January 2021 at the start of a large mooring inspection campaign in Australia where we provided seamless 24-hour remote operations support from two separate locations in the UK and Canada, and successfully utilised our 3D modelling capabilities remotely.
In our first blog post of 2022, Michael provides an overview of Ashtead Technology's growing remote operations capabilities and how we are playing our part to ensure safer, faster, and more sustainable project delivery.
Overview
A growing number of offshore operators are turning to remote operations solutions to reduce offshore POB and resulting risk exposure and also to help increase efficiencies and reduce carbon footprint.
Through our remote operations centres in the UK and Canada, Ashtead Technology's Asset Integrity team is using remote operations to deliver UWILD and life extension mooring inspection.
Last year, we successfully delivered projects in Angola, Australia, Malaysia, Norway and the USA for major energy operators and continue to see significant uptake for our remote inspection services for the integrity management of subsea structures and production systems.
Prior to the pandemic, many offshore operators had already adopted remote operations solutions to improve their efficiencies and consistency. Initially considered mostly a nice-to-have, these solutions are now becoming critical to ensuring operational continuity. Our onshore remote operations centres provide a remote, yet connected, working environment for specialists, customer representatives, and additional support personnel and ensure customers can make the best use of time, reduce mobilisation cost, and benefit from onshore expertise.
Flexibility and reliability
The ability to have inspection personnel online only when required has proved very beneficial during Covid-19 related travel restrictions, when quarantine and country specific isolation periods have in some cases added several more weeks to an inspection campaign. Remote operations allows inspection vessels to remain onsite to conduct other work scopes, reducing the requirement to return to port, giving a flexible and reliable solution for our customers. Our remote operations teams can mobilise with as little as 48-hours' notice, provide 24-hour coverage, and stand down immediately upon completion of the work scope. We can also conduct hybrid remote operations, with one offshore operator and one onshore remote operator working back to back 12 hour shifts, combining the flexibility of a remote service, with on-site technical support.
Health, safety and sustainability
Reducing personnel onsite has a number of implications, not least the reduction of risk exposure through eliminating the need for travel, helicopter transportation and potentially extended durations onboard a vessel. Remote operations allows operators to return home after completing a shift, minimising the separation from family and friends. The reduced requirement for transport and travel provides a considerable reduction in carbon impact and related costs that are normally associated with moving personnel to offshore work sites.
Summary
Remote operations allow us to continue to bring specialised digital technologies to our global customer base and carry out more inspections throughout the year whilst meeting some of the industry's most pressing challenges.
With the ability for operators and engineers to have live control over critical functions remotely, this will improve the integrity management of safety-critical assets, whilst reducing risk, cost and carbon emissions.
In 2019, James Christie joined Ashtead Technology as Regional Director for the Asia Pacific region. In our latest blog post, James shares his thoughts on his time with the company so far, how the business has evolved over the past few years and plans for continued growth.
Overview
"2021 was a year of uncertainty and reward for Ashtead Technology's Asia Pacific region business. Despite the challenging market conditions, compounded by the ongoing COVID-19 pandemic restrictions, we continued to strengthen our market presence and grow our capabilities to support our customers' offshore energy projects.
"Much of this success can be attributed to the recent investments we have made over the past few years, both organically and through M&A, which have enabled us to enhance our offering, grow our track record and position us for the future.
Ongoing strategic investment
"Along with the recruitment of key operational personnel to grow and strengthen our team, we doubled the size of our Singapore facility as part of our international growth strategy. By acquiring neighbouring space on the same site, we have expanded our property footprint to accommodate a wider range of electronic and mechanical equipment and increase our test facilities to better support customers based in the region and internationally.
"The integration of recent complementary acquisitions has also been central to our growing success in the Asia Pacific region. Through Ashtead Technology's acquisitions of Welaptega and Underwater Cutting Solutions, we have further strengthened our capability enabling us to offer our customers a broader and more complete service package for their Survey & Robotics, Mechanical Solutions and Asset Integrity challenges in the region.
Bolstering our track record & new growth opportunities
"Through leveraging our enhanced capabilities, we have enjoyed a particularly busy year, securing a broad range of IMR work scopes across the region. These have ranged from asset integrity remote operations projects in Malaysia and Australia, to the provision of coating removal and subsea cutting solutions in Malaysia and India respectively.
"Since the start of the year, our asset integrity teams have delivered eleven remote operations projects across seven global locations. Remote operations allows us to continue to bring specialised digital technologies to our global customer base and carry out more inspections without the cost and difficulties of mobilising personnel to remote locations, ultimately improving the integrity of safety-critical assets, whilst reducing risk and carbon emissions.
Offshore renewables focus
"The energy transition represents a huge opportunity for our business. The offshore wind market in Asia is expected to experience massive expansion over the next decade, particularly in the more advanced economies of Taiwan, Japan and South Korea, as Governments face increasing pressure to focus on climate change, renewable energy sources, and hit their net-zero emissions targets. Based on our recent successes in supporting offshore renewables projects in Asia, Europe and the USA we are well placed to benefit from the growth of this key market in Asia.
Looking ahead
"Our focus is on delivering and exceeding our customers' expectations so we continue to expand our capabilities and grow our track record in the region. We are committed to ongoing investment in our facilities, equipment and people to meet the anticipated increase in demand for our specialist services in the Asia Pacific region.
"At the core of our brand, is our deep-rooted capability amassed through the acquisition of some of the most technical and reputable brands in our specialist fields. We will continue to harness this expertise to ensure we provide our customers' projects with the optimum solutions, delivered safely, reliably and cost-effectively."
In 2018, Ashtead Technology acquired Welaptega, a market leader in mooring system inspection and integrity engineering.
Almost three years on, Tyler de Gier, General Manager, shares his thoughts on the journey so far and how being part of Ashtead Technology has helped the business cement its leading position in the underwater inspection services market. Furthermore, as the demand for remote operations increases, Tyler discusses how Ashtead is playing its part to ensure safer, faster, and more sustainable project delivery.
Why was Welaptega such a good strategic fit for Ashtead Technology?
For over three decades Welaptega has performed inspection and dimensional analysis of mooring and production systems for oil and gas installations worldwide. Our technologies and expertise allow operators to manage the integrity of safety-critical assets without compromising production activities.
By bringing together two world-class portfolios, the deal significantly strengthened the group's subsea inspection capabilities, creating a wider, more competitive offering, whilst reinforcing Ashtead Technology's position as a leader in the provision of advanced offshore equipment solutions.
Talk about some of the recent project successes since becoming part of the Ashtead Technology team
R&D has always been integral to our success. Now part of Ashtead Technology, we have been able to continue investing in new innovations to further develop our service offering and keep us at the forefront of underwater inspection applications.
Recent innovations include continued improvement of our optical Chain Measurement System (CMS), complete with new automated edge tracking software to improve operational efficiency in high-motion environments, such as in Angola. Further CMS development is underway to reduce chain measurement time by 50% and allow the system to be deployed by Observation Class ROVs.

We have also redeveloped our existing wire mooring rope cleaning and inspection tool for use on a wider range of flexibles, including risers, umbilicals, marine power cables, and TLP tendons, to allow inspection and manage fatigue by reducing weight and drag from excessive marine growth. The Riser/Rope Cleaning and Inspection System (RCIS) has a track record in excess of 10 years as the safest and most efficient method of cleaning subsea flexibles, and now requires no specialist offshore technicians to operate it, thereby helping to keep operational costs low and reducing POB.
How is the company playing its part in support of the energy transition?
A growing number of offshore operators are turning to remote operations solutions to not only reduce offshore POB and resulting risk exposure, but also to help minimise spending, increase efficiencies and reduce carbon footprint.
So far this year, our Asset Integrity team has carried out five remote underwater inspection projects from our remote operations centres in Aberdeenshire, UK, and Canada. We've successfully delivered projects in Angola, Australia, and the UK for the likes of Shell, BP, and Woodside, and we have upcoming projects in Malaysia, Canada, and the USA.
Some of these projects have required remote operations due to travel restrictions, while others have opted for remote operations instead of conventional manning.
Remote operations will allow us to continue to bring specialised digital technologies to our global customer base without the cost and difficulties of mobilising personnel to remote locations, ultimately improving the integrity management of safety-critical assets.
What's next for Ashtead Technology's Asset Integrity team?
We are internationally recognised for our best-in-class inspection technology and service capability and through our global network of agents, we can bring our offerings to a broader customer base whilst providing a local service delivery.
Innovation will remain integral to our growth strategy as it keeps us at the forefront of what we do. In collaboration with Whitecap Scientific, SubC Imaging, and Nova Scotia Community College SEATAC division, we are also pioneering new digital twinning technology for use by conventional ROV and vessel crew rather than specialists. Guided by real-time 3D reconstruction to give feedback on image quality and coverage, minimally-trained persons will be able to confidently collect high quality image data for post-processed digital twins.
This new solution will allow our customers to cost-effectively digitise their high value, safety critical assets without the need for offshore photogrammetry specialists, facilitating a transition to unmanned operations without jeopardising service quality.
The number of offshore assets reaching their end of life, globally, is rising, meaning decommissioning projects are a real eventuality for many operators.
Decommissioning is an inherently hazardous exercise, one that requires meticulous planning, experienced people and an extremely defined skill-set, if it is to be executed safely.
In the North Sea, one of the world's most mature offshore production basins, decommissioning will be a major industrial challenge. There are hundreds of platforms, millions of tonnes of infrastructure, and thousands of wells and structures that will need removed and recycled in the coming years.
Decommissioning is an expensive business but costs have been declining in recent years due to increased innovation, better cooperation throughout the supply chain and the development of first-class skills and capabilities.
In this blog, Stephen Booth, Ashtead Technology's Business Development Manager, discusses the many challenges facing the sector and how Ashtead Technology can help Operators make decommissioning safer and more cost effective, whist reducing environmental impact.
Best-in-class services
"With a 20 year track record, Ashtead Technology are international experts in the provision of offshore decommissioning services for the energy sector. With one of the largest fleets of decommissioning tools and systems in the market, we specialise in ROV tooling, control and monitoring solutions, structure monitoring services, cutting systems and seabed dredging solutions.
"We offer a complete service capability for the cutting and removal of oil & gas and renewable energy infrastructure, with a proven track record in field clearance and structure & pipeline cutting and recovery. Specifically for the renewables market, we provide a suite of services for the decommissioning of met masts, monopiles, tri-pile foundation structures and export cables.
"The continued ambition to reduce decommissioning expenditure is a challenge for the whole supply chain and our aim is to provide customers with the most reliable, efficient and predictable end of life solution, delivered at the lowest cost with no compromise on best-in-class HSE performance.
Enabling technology innovation
"Innovation in decommissioning through continued investment in research, development and deployment of technology will maintain and enhance supply chain capability.
"In order to expand our market-leading offering and deliver greater value for our customers', Ashtead Technology continues to pioneer the development of new technologies and methodologies.
"The SubseaLASE is an advanced method of laser cutting that has significant advantages over standard mechanical or water-abrasive cutting methods. An extremely versatile tool, the SubseaLASE can perform a swift remote cut regardless of orientation or geometry.​ Not only is cutting time significantly reduced by approximately 80%, the set up and post-cutting stages of operation are greatly simplified, with minimal human intervention required.
"SubseaLASE has the potential to revolutionise pipeline cutting operations providing a safer, low-cost and low-risk cutting solution to fast-track the decommissioning process. Furthermore, it provides Operators with a more sustainable alternative to traditional decommissioning methodologies as the process requires less human intervention and vessel time therefore reducing the emissions associated with decommissioning.
"As we approach the final development stages with this product, we have started the journey of engaging with potential sponsors to help complete the R&D process and facilitate with the commercialisation of this game-changing technology.
Centre of excellence capability deployed internationally
"Since our acquisition of UCS in 2019, Ashtead Technology's ability to bring a decommissioning capability to international customers has significantly increased.
"Drawing on a tried and tested project management model which combines our centre of excellence expertise (delivered from our Mechanical Solutions Technology Hub in Thainstone, Aberdeenshire) with a bolstered local and international operational capability, we have recently executed multiple successful projects in the Middle East, Asia and West Africa. Furthermore, we have laid the foundations for delivering further complex, multi-service decommissioning projects across these regions, as demand requires.
Sustainable decommissioning
"Decommissioning is an inherent part of the energy transition agenda with new ways of repurposing and reusing infrastructure being explored to minimise gas emissions. As a proactive participant in the energy transition, Ashtead Technology will continue to work with industry partners and the supply chain to support the development of new technology and methodologies to improve efficiency and reduce cost and safety risk in an environmentally responsible manner."