Mooring inspection and analysis
Ashtead Technology provides trained inspection personnel and purpose-built tools to perform the highest-quality in-situ inspection and dimensional assessment of mooring systems.
We innovate reliable and efficient methods to collect accurate measurements and support your ability to track minute amounts of wear, corrosion, and deformation. Our approach utilises a risk-based engineering framework, combined with advanced underwater visual and NDT inspection technologies.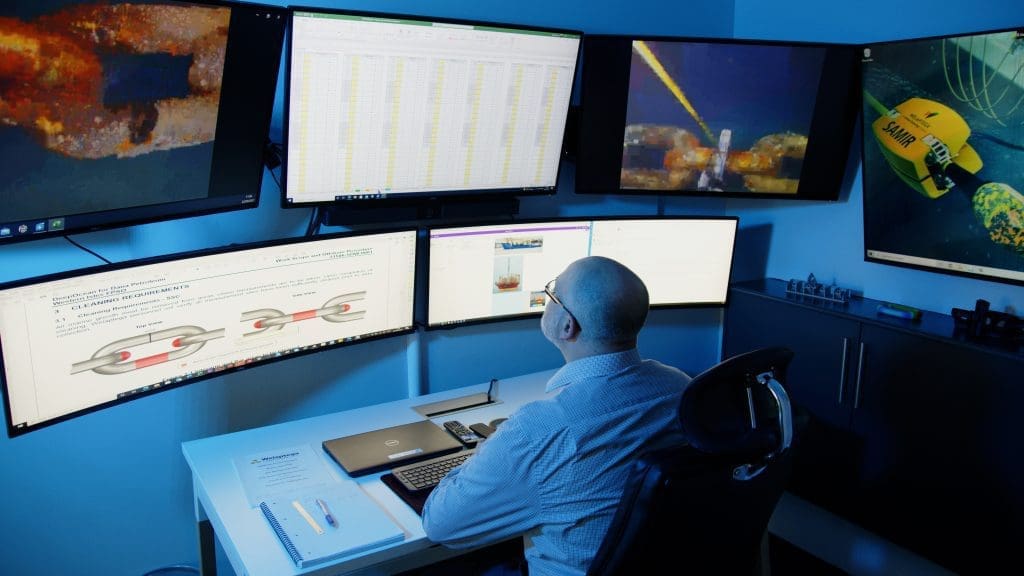 All services can be carried out remotely from our remote operations centres in Aberdeenshire, UK, and Canada, reducing POB and costs.

Our trained personnel are able to identify deterioration and any condition that is outwith intended operating parameters, and apply inspection and measurement technologies to areas of highest-risk to maximize efficiency and minimize vessel days.

We carry Approved Service Supplier accreditation from ABS, BV, DNV, and LR to deliver inspections that meet Class, regulatory, and life extension requirements.
Mooring chain inspection
Moorings are subject to harsh dynamic subsea environments leading to wear, corrosion and fatigue, making accurate measurements a critical part of integrity management. As a leading global provider of optical/mechanical measurement solutions and services, we deliver precise dimensional information in support of subsea operations.
Ashtead Technology engineers benefit from decades of experience, regular training and are equipped with the latest technologies to achieve maximum performance. We provide bespoke, robust optical and mechanical measurement tools for use in harsh subsea environments, deployable by Work Class and Observation Class ROVs.
Combine any measurement technology with Ashtead Technology's Subsea Cleaning Tool for efficient cleaning and Chain Angle Tool to verify chain inclination/tension and load sharing.
For an in depth look at the importance of mooring chain measurement, please read our detailed Mooring Chain Measurement FAQ
Our chain measurement
technologies include:
Chain Measurement System (CMS) – a market-leading chain measurement tool for measuring critical chain dimensions that enables confident tracking of corrosion and wear rates.


Subsea Caliper – versatile, and accurate digital caliper suitable for Class-approved service or basic rental.


3D Photogrammetry – the most detailed method of chain measurement, ideal for chains at or near end of life or with other anomalies requiring detailed engineering analysis.
Wire and fibre mooring rope cleaning and inspection
The Riser/Rope Cleaning and Inspection System (RCIS) can be engineered to clean and inspect the surface of subsea tubular components such as flexible risers, marine cables, umbilicals and fibre/wire moorings.
The RCIS tool is deployed and towed by a Work Class ROV, without any additional lifting or power requirements, efficiently cleaning both soft and hard marine growth. An optional module consisting of four cameras performs a full 360-degree close visual inspection of the riser or rope surface.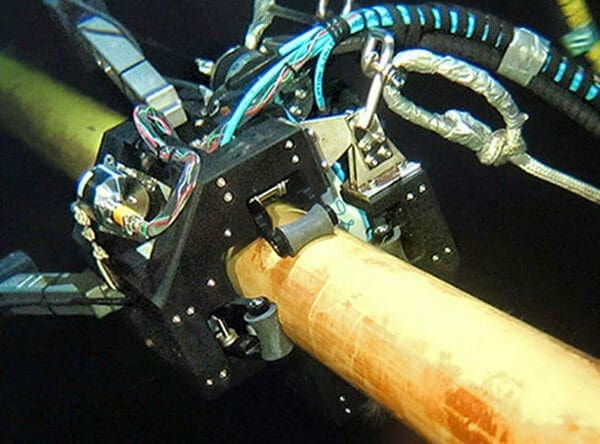 Featured technologies
View a selection of our equipment and key capabilities related to this service
Riser/rope cleaning and inspection
Optical Chain Measurement System
Ashtead Technology's new optical Chain Measurement System (CMS) is the industry's most accurate and reliable technology for measuring chain corrosion and wear rates.
Want to find out more?
We have a team of experts ready to answer your questions and help you get what you need